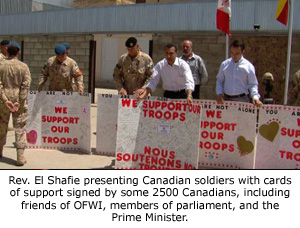 Reverend El Shafie safely back from Afghanistan and Pakistan
Dear Friends and Partners,
Reverend El Shafie has returned safely from Afghanistan and Pakistan where he met with and encouraged Canadian and NATO troops and local Christians during a highly successful trip. One Free World International would like to thank you for your support and prayers for the success of this mission. The trip created several new opportunities and marked the official launch of Operation Horizon of Hope, under which Rev. El Shafie plans eventually to return to Afghanistan to continue bringing encouragement to our troops and to support the underground church.
During his 15-day trip Rev. El Shafie met with Canadian troops to encourage them and present them with cards of support signed by our friends and members across the country, as well as the Prime Minister of Canada and some federal cabinet ministers. The purpose of this meeting was not to make a political statement about Canada's presence in Afghanistan, but to express in a concrete way that we stand behind our troops and appreciate their work and sacrifices. These brave young men and women do their job and risk their lives daily on our behalf and on behalf of peace and freedom for the Afghan people and they deserve our support and appreciation.
Rev. El Shafie also met with local Christians in Afghanistan and Pakistan to encourage and support them in the midst of persecution. In Pakistan he met victims of the country's blasphemy laws and a young girl, only 4 years old, who was raped at the age of 2 and a half by the son of her father's employer. The young man felt entitled to inflict this cruel punishment on the girl simply because her father had a dispute with his employer and as a Christian had no rights. The family remains in hiding and cannot report the incident or obtain medical help for the child.
The mission has opened up tremendous opportunities. Currently One Free World International is working with a media production company to produce a professional quality documentary about the persecution of Christians worldwide using video footage shot during this and upcoming trips. This documentary will be used to educate the public and decision-makers about human rights abuses and persecution of religious minorities, particularly Christians. With decision-makers already expressing interest in the video, it promises to be a powerful tool on behalf of many who are suffering around the world.
One Free World International is able to make the documentary in a relatively cost-effective manner. Nevertheless, a production like this still requires exceptional resources. As you know, our work is only possible through the voluntary donations of our friends and members and we do not usually ask for your support. However, the opportunities and challenges before us are so great that we must continue to share them and give you the chance to ensure the success of these projects. Your participation is vital and much appreciated. (Please note that we cannot provide tax receipts because One Free World International has chosen to pursue its goals free of the limitations associated with charitable status.)
Among the many opportunities arising from this trip, Rev. El Shafie was interviewed on his return on CTV's morning show Canada AM about his mission, his experiences, and his gratitude toward Canada. The interview from Thursday, August 9, 2007, can be viewed by visiting the One Free World International website and downloading the file. With so much happening, Rev. El Shafie is available and eager to speak to your church, congregation, or group about his recent trip and the documentary project. Together we can share the message and bring hope to suffering Christians in Afghanistan and Pakistan and around the world.
Please PRAY:
• for the safety and protection of the Canadian troops and other soldiers risking their lives to bring peace and hope to the Afghan people. Pray that they will return home safe and sound and pray also for the families of our fallen heroes;
• for the Afghan people who have suffered for so long from wars and oppression, that they would be able to live in peace and hope and experience true freedom through the Prince of Peace;
• for the Christians in Afghanistan and Pakistan facing persecution for their faith. Pray that they would have strength and courage to stand firm in the face of persecution and be able to love and forgive their persecutors; and finally,
• thank God for Rev. El Shafie's return from a safe and successful mission.
ACTION:
The Bible teaches that faith without action is dead, so please take action urgently and:
• invite Rev. El Shafie to speak to your church, congregation, or group about his recent trip and the video documentary project by emailing info@onefreeworldinternational.org; and,
• send your financial contribution to:
One Free World International 20 Bloor Street East, Box 75129 Toronto, ON M4W 3T3
or deposit it directly to:
Bank: Royal Bank of Canada Institution Code: 003 Transit Number: 5452 Account Number: 1008507 (Canadian deposits); 4003190 (U.S. dollar deposits) Swift: ROYCCAT2
Remember, that the persecuted Christians are dying every day, but they are still smiling.  They are in a very deep dark night, but they have the candle of the Lord. The enemy can have a very strong weapon and a very strong army, but we have the Lord Almighty.
"They can kill the dreamer, but they cannot kill the dream" in the Lord's name.
Be with God and may God be with you.
One Free World International El Shafie Ministries