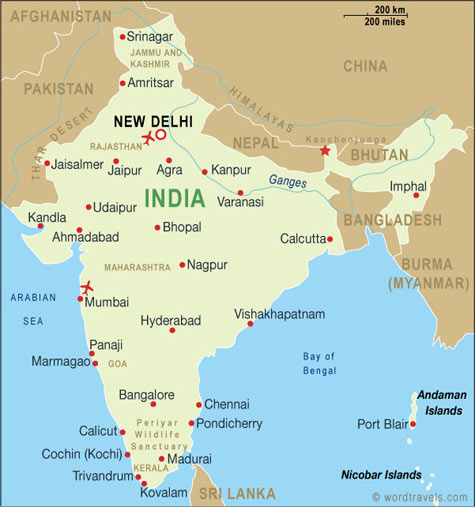 India Christians Under Attack Again from Hindu Extremists Dear Friends and Partners,
On February 20, 2010 similar attacks took place in Punjab state after Christians tried to protest against banners displaying offensive images of Jesus smoking and drinking. Hindu extremists responded by burning a church belonging to the Church of North India. Some of the extremists attacked the home of a deacon of the church threatening the deacon and his wife who were inside, while others doused a teacher, Christopher Morris, and his daughter, Daisy, with gasoline and tried unsuccessfully to set them on fire.
With a population of over 1 billion people, India is the world's second largest country and has a great history and culture. Most Indians are Hindu while some areas have significant minorities of Muslims and Christians account for approximately 2% of the population even though the history of the church in India reaches back to the time of the Apostles. The rapid rise of Hindu nationalism in the late 1990s and the importance of the Hindu nationalist Bharatiya Janata Party (BJP) in both national and regional politics since then have encouraged Hindu extremists. The murder of Graham Staines and his two sons, who were burned alive in 1999, shocked the world, yet violence between Hindus and Muslims and attacks by Hindu extremists against Christians have continued to erupt with little effective action on the part of authorities.
While government officials have pledged to investigate the latest attacks, police reportedly stood by while the mob tried to burn Christopher Morris and his daughter alive and also cleaned up the crime scenes destroying any evidence before an inquiry could take place. Moreover, during both the Orissa and Punjab incidents the BJP has been in a position to influence the inaction of local authorities.
It is time Indian officials take responsibility for ensuring that the human rights of all Indian citizens are respected. Please stand with us for the right of all Indians, regardless of their religious beliefs, to live in peace, equality, and dignity. Indian authorities must bring those responsible for violence against religious minorities, whether in Orissa or Punjab or elsewhere, to justice and they must do it quickly and effectively.
Please pray:
• for the Christians of Orissa and Punjab states, that they would be protected from harm and filled with courage and comfort in the face of persecution and also that they would be filled with the love of Christ toward their Hindu neighbours and particularly for the extremists who are persecuting and attacking them;
• for the Hindu extremists, that they would appreciate the wrongfulness of their actions and experience the love, mercy, and forgiveness of Christ; and,
• for the people of India, that they would experience true peace and harmony and be able to live together in freedom, equality, and dignity, whatever their religious beliefs, as they share their country's beauty and rich heritage.
ACTION:
The Bible teaches that faith without action is dead, so please take action urgently and write (contact details are included below):
• to the ambassador of India in your country demanding that Indian authorities put a stop to attacks by Hindu extremists and encourage equality, peace, and respect for human rights, particularly the right of all Indians to live in security and equality regardless of the religious beliefs they choose; and,
• to the Foreign Minister or Secretary of State for your country urging them to make the question of Hindu extremism a primary issue in their relations with Indian authorities and to use their relationship with Indian authorities to promote human rights, equality, and religious freedom for all Indian citizens.
Please remember to send us a copy of your correspondence at: info@onefreeworldinternational.org
Remember, that the persecuted Christians are dying every day, but they are still smiling. They are in a very deep dark night, but they have the candle of the Lord. The enemy can have a very strong weapon and a very strong army, but we have the Lord Almighty.
"They can kill the dreamer, but they cannot kill the dream" in the Lord's name.
Be with God and may God be with you.
Rev. Majed El Shafie President and Founder One Free World International El Shafie Ministries
Sources: One Free World International, Compass Direct
CONTACT:In Canada:
The Honourable Lawrence Cannon Minister for Foreign Affairs 125 Sussex Drive Ottawa, ON   K1A 0G2 Tel.: (613) 992-5516; Fax: (613) 992-6802 Email:
Cannon.L@parl.gc.ca
His Excellency Shashishekhar M. Gavai High Commission of India 10 Springfield Road Ottawa, ON   K1M 1C9 Tel.: (613) 744-3751; Fax: (613) 744-0913 Email:
hc@hciottawa.ca
In the United States:
Secretary Hillary Clinton U.S. Department of State 2201 C Street NW Washington, DC  20520 Tel.: (202) 647-4000 (Main switchboard)
Webform:http://contact-us.state.gov/cgi-bin/state.cfg/php/enduser/ask.php?p_sid=F5OZZa6i&p_lva=&p_sp=&p_li
Her Excellency Meera Shankar 2107 Massachusetts Avenue, NW Washington, DC 20008 Tel.: (202) 939-7000; Fax: (202) 265-4351 Email: info2@indiagov.org