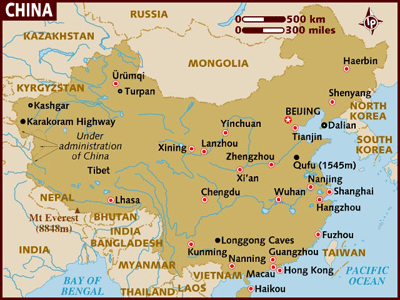 China and the Olympics: a Challenge for the Global Conscience
Dear Friends and Partners,
I remember vividly my disappointment in 2001 when the International Olympic Committee (IOC) announced that the 2008 Summer Games would be in China. My sense of disillusionment at this betrayal of the free world and of the Chinese people's hopes for freedom, human rights, and dignity was real. Now, while the world watches spellbound as athletes compete for Olympic fame and glory in Beijing, Chinese Christians continue to suffer for their beliefs in secret.
We do not believe it was proper to award the Games to China before proof of concrete progress in the government's human rights record. However, because we believe the Chinese people deserve the opportunity to host the Games, we have waited to see the government's response before speaking out. China's brutal occupation of Buddhist Tibet and repression of the Falun Gong have received a fair amount of attention. Our primary concern, however, is with Chinese Christians because their suffering goes mostly unnoticed in the West. The situation did not improve but worsened in the months before the Games and demands a response while the world is still focused on China.
Christians in China number about 80 million, or about 6% of the 1.3 billion population, and are permitted to worship only in churches controlled by the atheistic, communist government. Any religious activity outside such government-controlled organizations is forbidden, yet an estimated 60 million Christians worship illegally in so-called house-churches. While the situation varies across the country, Christians worshipping in house-churches and their leaders do so risking harassment, raids, confiscation of religious materials, detention and arrest, physical abuse and torture, and "re-education" in forced labour camps.
In the run-up to the Olympic Games the government cracked down, closing house-churches and expelling foreign missionaries. Several Christians are in detention or under house-arrest until after the Olympics and Paralympics in order to prevent them from contacting westerners with a negative report. We do not expect improvement after the Games when the world's attention moves elsewhere.
The IOC must also bear responsibility for its actions. It failed its own mandate by granting the Games to China despite its well-documented failures on human rights and lack of clear commitment to change. It has since failed to hold China accountable for even the simple promise on which it was awarded the Games, namely to improve its human rights record. This is not simply a political issue with no bearing on Olympic sports. China's human rights abuses make a mockery of the values highlighted in the Olympic Charter which include "the preservation of human dignity", and "a spirit of friendship, solidarity and fair play". Moreover, the violations spill over into the Games where the IOC has also failed to require China to live up to international standards of human rights and Olympic tradition.
The Chinese government has tried to use the Games to project a positive image of stability and prosperity. It has made little effort to improve human rights but plenty to make it look like it has. The IOC also has rejected its own values and created a dangerous precedent for the future of the Olympics. If we have any hope that the Olympics can serve as a positive force, we must act now to ensure that the legacy of these Games is not one of repression, deception, and surrender to political might, but one of human rights, hope, and freedom.
We can all start with a simple act. Each of our homes contains products that were made in China. Yet, the price of human dignity is high compared to the cost of inexpensive products that may have been produced by forced labour. As a result, OFWI is encouraging our friends and partners not to purchase Chinese products and to let China know that the boycott will end when we see proof that China is respecting the religious freedom of its Christians and other minorities in fact and not just words.
Also, please PRAY:
• for the suffering Christians and other religious minorities in China, that they will experience freedom and respect for their human rights and dignity;
• that the world would awaken to the repression practised by China's rulers and demand change so that, rather than leaving a legacy of repression and deception, these Games would mark a turning-point in Chinese history, when freedom, human rights, and dignity returned to the Chinese people; and,
• for the leaders of China, that they would appreciate how granting respect for religious freedom and other human rights can enrich and strengthen their great country and that they would take effective measures to secure these rights for all Chinese citizens.
ACTION:
The Bible teaches that faith without action is dead, so please take action urgently and write to (contact details are included below):
• the Chinese embassy, encouraging the Chinese government to take effective measures to allow its citizens to worship freely and explaining that respect for religious freedom and other human rights will enrich and strengthen their great country. Inform them as well that you will be boycotting Chinese products until there is clear evidence that the Chinese government is respecting the human rights and dignity of its people;
• the International Olympic Committee, urging its members to take human rights and Olympic values seriously in determining their choices of Olympic hosts and in their role of overseeing the Games; and,
• make the effort to purchase products that have not been made in China. Until we have proof that China is serious about respecting the human rights of its citizens and that believers and other minorities are not being sent to forced labour camps because of their religious activities, the blood, sweat and tears of our brothers and sisters is on our conscience.
Please remember to send us a copy of your correspondence at: info@onefreeworldinternational.org
Remember, that the persecuted Christians are dying every day, but they are still smiling.  They are in a very deep dark night, but they have the candle of the Lord. The enemy can have a very strong weapon and a very strong army, but we have the Lord Almighty.
"They can kill the dreamer, but they cannot kill the dream" in the Lord's name.
Be with God and may God be with you.
Rev. Majed El Shafie President and Founder One Free World International El Shafie Ministries
CONTACT:
His Excellency Lan Lijun 515 St. Patrick Street Ottawa, ON   KIN 5H3 Tel.: (613) 789-3434 or 791-0511; Fax: (613) 789-1911 or 789-1414 E-mail: chinaemb_ca@mfa.gov.cn
International Olympic Committee Jacques Rogge, President Château de Vidy 1007 Lausanne Switzerland Tel.: (+41.21) 621.61.11; Fax: (+41.21) 621.62.16
In the United States:
His Excellency Wen Zhong Zhou Embassy of the People's Republic of China 2300 Connecticut Avenue NW Washington, DC   20008 Tel.: (202) 328-2500; Fax: (202) 328-2582 Email: chinaembassy_us@fmprc.gov.cn